Website Maintenance Checklist 2023: Your Ultimate Guide to a Powerful Online Presence
In the dynamic and fast-paced digital realm, implementing a robust website maintenance strategy is crucial for the longevity and performance of your online presence. A meticulous attention to detail, especially towards WordPress updates, website security enhancements, and user experience improvements, can turbocharge your site's reliability. This approach not only fortifies the safety of your website but also enhances its visibility, ensuring it serves as a trusted and valuable resource in the ever-evolving world wide web.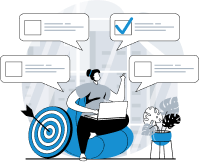 Consistent weekly maintenance is critical for preserving your website's functionality. Every non-functioning contact form, broken link, or outdated content can lead to user dissatisfaction, potentially resulting in customer loss, decreased revenue, and lower search engine rankings.
Here's your weekly to-do list:
Validate that all of your pages are loading without errors, ensuring seamless user experience.
Conduct a comprehensive backup of your website and verify a previous version is safely archived, providing you with a safety net in case of emergencies.
Consistently update your website's software and plugins, ensuring optimal performance and compatibility.
Test all your forms to guarantee they are operating properly and efficiently.
Examine your pages and posts for spam comments and promptly remove them to maintain the quality and credibility of your content.
Review your website thoroughly for any broken links and fix them promptly, ensuring a smooth navigation for your visitors.
Identify and address 404 errors, redirecting to relevant content where possible to retain user engagement.
Publish fresh, engaging blog posts regularly to foster community interaction and enhance SEO traffic.
Evaluate the website's UI/UX design for any inconsistencies or possible improvements to boost overall user satisfaction.
Monitor website's server uptime to ensure your site is accessible at all times.
Review and update content, images, and multimedia elements as necessary to maintain an up-to-date and dynamic web presence.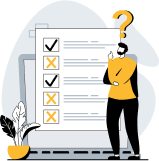 In the practice of monthly maintenance, you get to grasp the larger trends and performance patterns of your website. A thorough examination of metrics and analysis of user engagement helps pinpoint areas that need augmentation. While weekly tasks fortify the current performance of your site, the monthly upkeep steers its strategic growth and future readiness.
Measure your website's loading speed and ensure no unnecessary elements are hindering its performance.
Execute comprehensive security scans, ensuring all components are secure and functioning correctly.
Assess your website's analytics from the previous month to understand user behavior and traffic patterns.
Scrutinize your blog for any outdated articles, and update them to maintain relevance and accuracy.
Perform a review of your SEO strategy, analyze keyword performance, and make necessary adjustments to improve your website's visibility on search engines.
Conduct a social media integration check to ensure that all social buttons and share functions are working correctly, fostering better user engagement and reach.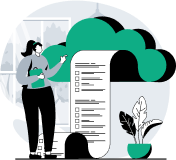 Quarterly maintenance zeroes in on a holistic evaluation of your website. It involves reviewing the website architecture, revitalizing content, and resolving potential issues to ensure your website delivers a seamless user experience across diverse channels and devices. It's also an excellent opportunity to explore integrating cutting-edge technologies and services, like artificial intelligence, to enhance your website's capabilities.
Conduct a comprehensive review of your website's design and structure. Are there elements that could be better organized or features that could be added to improve user engagement and functionality?
Inspect all graphics and images – are there any that need refreshing or updating to match your current brand aesthetics or market trends?
Scrutinize your SEO strategy, meta titles, and descriptions for their effectiveness. Is there room for further optimization to boost search engine rankings?
Examine and tweak interactive elements like pop-ups, forms, and calls to action to enhance their efficiency and user-friendliness.
Evaluate your workflows and identify opportunities for automation to increase operational efficiency and reduce manual workload.
Rigorously test your website across various devices and browsers to ensure it renders perfectly, providing a consistent user experience.
Audit your advertising and marketing campaigns for their effectiveness. Are there any elements that need adjusting or updating to improve your marketing outcomes?
Validate the effectiveness of your backups by restoring a previous version of the website. This helps ensure that your backup processes are working correctly.
Consider incorporating Artificial Intelligence (AI) tools to personalize user experiences, improve site navigation, or automate customer interactions.
Review third-party integrations. Make sure all external plugins, payment gateways, or other integrations are updated and functioning optimally, ensuring seamless user interactions and maintaining the site's overall performance.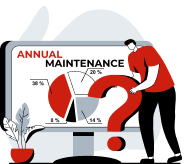 Yearly maintenance forms the bedrock of your long-term digital strategy, ensuring your website's design, functionality, and content continue to align with your evolving business objectives. Administrative tasks such as domain renewals and email account management are integral during this period, but it's also an opportunity to invigorate your content strategy and reassess the overall user journey.
Update any references to the current year across your website to ensure timeliness and relevance.
Conduct an exhaustive content audit for all pages, assessing accuracy, grammar, and relevancy. Consider modernizing or removing outdated information.
Scrutinize all active email addresses associated with your website, streamline by removing any redundant or seldom-used addresses.
Confirm the successful renewal of your website's domain name. If it's close to expiry, renew it well in advance to avoid any interruptions to your online presence.
Reflect on whether your website design could benefit from a modernizing update, taking into account the latest trends in web design and user experience.
Revisit your top-performing blog articles. Consider updating them with fresh insights, or repurpose them into other content formats such as videos, infographics, or downloadable guides.
Assess your website's user experience (UX). Are there any changes you can make that would improve the user journey, increase page dwell time, or reduce bounce rate?
Carry out a full website performance review, looking at page load speeds, mobile responsiveness, and any potential errors. Implement necessary optimizations.
Review and update your privacy policy and terms of service to ensure they comply with any changes in local or international laws or regulations.
Consider conducting a survey or soliciting feedback from your users to gain insights into what improvements they might want to see on your website.
Plan your content strategy for the next year. What topics, themes, or events will you need to cover? Do you have any special marketing campaigns planned that will need supporting content?
By integrating these tasks into your annual website maintenance schedule, you're sure to keep your website relevant, engaging, and optimally functioning, helping drive your online success.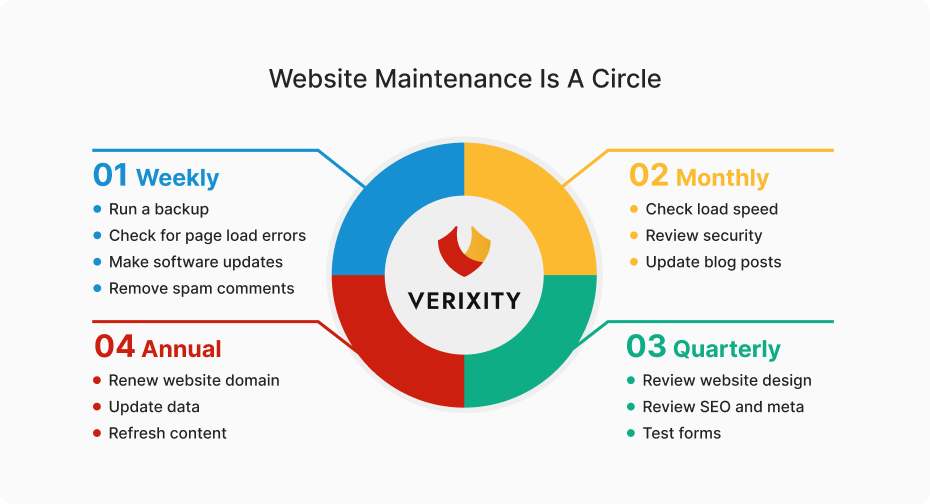 Summary of Website Maintenance Tasks and Their Importance
In this digital age, particularly in 2023, as businesses increasingly shift their operations online, a well-maintained website is no longer a luxury but a necessity. It's the cornerstone of your online presence, the virtual storefront where customers engage with your brand. Website maintenance is a continuous process of ensuring your website operates smoothly, is updated, and remains relevant, thereby delivering a positive user experience, promoting traffic growth, and strengthening SEO and Google rankings.
Weekly tasks involve regular checks to maintain the overall health of your website. This includes verifying page load times, updating software and plugins, removing spam, checking for broken links, fixing 404 errors, and adding fresh content to your blog. Weekly maintenance ensures the smooth day-to-day operation of your website, retaining your customers and their trust.
Monthly tasks offer a broader view of your website's performance. These tasks include monitoring load speeds, conducting security scans, reviewing website analytics, and updating blog articles as necessary. This regular monthly maintenance helps you spot trends, understand user behavior, and plan for future enhancements.
Quarterly tasks take a step back to consider your website's bigger picture. They include reassessing design and structure, checking graphics, reviewing SEO strategies, adjusting pop-ups and forms, automating processes, testing cross-device and cross-browser compatibility, and evaluating advertising and marketing campaigns. Integrating Artificial Intelligence and enhancing third-party integrations can also drive efficiencies during this stage. Quarterly maintenance ensures your site stays up-to-date with evolving digital trends and maintains a consistent user experience.
Annual tasks focus on aligning your website's design and functionality with your long-term goals. This involves updating content, reviewing email usage, renewing domain names, and considering design overhauls. Furthermore, checking SSL certificates, reassessing web hosting agreements, and performing a comprehensive SEO audit are vital annual tasks that help prepare your website for the year ahead.
In essence, every business owner needs a robust website maintenance strategy to thrive in the current digital landscape. Regular maintenance is not just about fixing issues; it's about proactively improving your website to ensure it continues to serve your business effectively, now and in the future. At Verixity, we understand this crucial need and offer comprehensive maintenance services to keep your website at its optimal performance, ensuring you stay ahead in the digital game.
Select a maintenance plan that is suitable for you and your business today!
https://www.verixity.com/wordpressservices/website-maintenance-packages/